Forgot windows 7 administrator password. How to Reset Administrator Password Windows 7 2019-04-29
forgot windows 7 administrator password
Monday, April 29, 2019 6:03:18 AM
Walter
How to Reset Windows 7 Password without Disk or CD If You Forgot it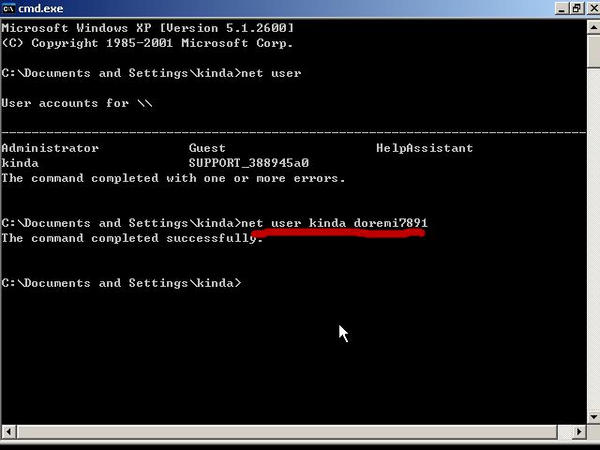 Not all user accounts are set up this way, but many are, especially if you installed Windows on your computer yourself. If you are uncomfortable with the methods that require extensive command line work, then you can simply choose the second method, which you saw was extremely simple and intuitive to use. Click on Proceed, and then reset with the new password on the text box. This will open up the Command Prompt. Then, you can even get this very same file online using Microsoft website.
Next
How to Reset Windows 7 Password with or without Reset Disk
Trying out all of them might be too much for your computer to handle. Method 3: Reset Windows 7 Password Using the Utilman. If you are a newbie, select a password assistant to solve your password problem is a better choice. I have get 2 options: 1,To use the folder and delete the existing windows installation in it , press L. If they did on yours as well, you would have to boot back to a command prompt to change the password later so may as well do it now. Borrow one from your friend or colleague. It would work for me too but aftr reaching that screen where i am supposed to click on privacy statement to open a notepad, mouse is not working.
Next
4 Ways to Reset Windows 7 Administrator Password
Then you can type exit and hit Enter to close the Command Prompt dialog. But if you are the only user of your home computer and are tired of tying in the password to log into computer, or forgot your user account password to log on system, you can follow the ways below this article to get past Windows 7 password and bypass the startup screen. Follow the simple trick below and reset Windows reset the password. So I want to prevent his ways of doing this using system32 folder and cmd. The methods on this article, apply to: Windows 7 Home Basic, Home Premium, Professional, Enterprise, Ultimate etc. I suspect that similar to a comment above, perhaps even though it says the file is copied, maybe I am not overwriting the sethc.
Next
I Forgot My Windows 7 Administrator Password, How to Log in?
Sometimes, it is used as a hacking method, which is not recommended. It can be used in place of the Command Prompt. Please choose the one that you think is the best. Choose recovery disk from drop-down box and click Next. I guess that is where patience is really needed…. Replace d: with a different drive letter if necessary.
Next
6 Tips for Windows 7 Administrator Password Reset without CD or Disk
Step 2 : Now, press Shift key 5 times to enable the default administrator account. No more password, no more problem! The only option left for you is to install the operating system again. I suppose i am also a bit confused about the instructions anyway. It is quite safe as it won't damage your system and existing data on your computer. If you forgot all Windows administrator password, you would have to reinstall Windows system to erase all data, reset Windows 7 password with reset disk or you can remove forgotten user password by only changing registry file with. You don't need to input any command you have no clue it.
Next
Forgot the administrator password? The Sticky Keys trick
Now in this post, we will show you how to reset Windows 7 admin password with Command Prompt in the following two cases. Way 6: Empty Win 7 Administrator password with a reset disk If you have prepared a Windows 7 password reset disk before, you can use it to easily. If you're still unable to reset Windows 7 password with Command Prompt or you have no prior knowledge of the Command Prompt, you can try a powerful do-it-yourself tool - , which makes password recovery easier than you think. Note: Without the password, just like your from door does not have a lock, so that everyone who can reach it, can access too. After password reset, do not forget to put the original sethc.
Next
How to bypass Windows 7 password When it is forgotten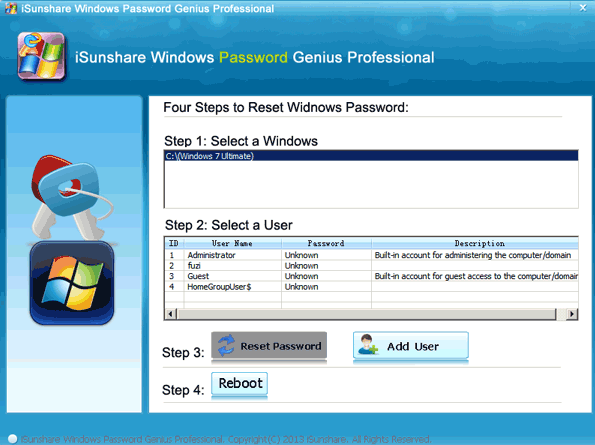 But if you wish to get a fully guaranteed output, then will be the best option to heed. Then remote and hit enter. Kinda scary that it works as well as it does! Best Regards Andreas from Cyprus I tried this sticky fingers method but i now cant get to a command prompt. When go the logon screen, get into operation system with the new administrator account. I waited and waited for the logon screen to show up. Again, if Windows is not installed on the D: drive, use the proper drive letter. After Windows 7 password recovery disk is burning successfully, exit the removal device.
Next
Resetting Forgotten Windows 7 Password: 7 Steps
Now click the button as shown in the picture below to view the problem details. After creating a password recovery disk, take it insert into your locked computer, and. Before this, rename the new sethc. On failed Windows 7 logon screen, there is a message link Reset password which could guide you to reset forgotten Windows password with wizard. When you forgot standard user password, you can log in with other admin accounts to reset its password.
Next
4 Ways to Reset Windows 7 Administrator Password
Forgot Windows 7 admin password and there is no other user account to login? Press F8 repeatedly until the Windows Advanced Options Menu screen appears. Editor Note: All the methods shared in this tutorial are fair enough to. Step 4: Remove Administrator password. As a matter of fact all the three methods are equally applicable, but you need to stick to any one of them. Note: Ophcrack is outdated program with no further updates. Now take the disc and boot your locked Windows 7 computer or laptop with it. But I really cant think of another way to type it.
Next